Furniture originated with early man—
and continues to be artisan and mass-produced.
THE STORY OF FURNITURE
EARLY MAN USED:
      • wood for fire,
      • wood for weapons,
      • wood for tools,
      • wood for shelter, and ultimately,
      • wood—to accommodate our human form.
"Please sit down….Pull up a chair….Have a seat…."
These are relatively new additions to our language.
The earliest chairs were the symbolic seat of a ruler and carved from stone.

We still sit on stone!
Historians compiled furniture history from manuscripts and wall and vase paintings because very few pieces of ancient furniture remained intact. Because of the dry climate, some Egyptian chairs made of wood survived and their construction methods were adopted by the Greeks and Romans. This included use of a ∗lathe to make uniform duplicates of legs and spindles.
∗Lathes are machines that hold and rotate wood rapidly along
its axis against sharp cutting tools. Egyptians used bowstrings
for power and throughout the ages, other power sources were
treadles, winches, water, steam and electricity.
Skins of leather were stretched across chair frames for flexibility. Eventually padding and cushions filled with feathers, horsehair, wool, down and other materials were added for comfort.
Throughout centuries, furniture styles mirrored architecture,
changing social patterns and customs and named for:
Monarchs • Artisan/Designers  • movements in Art & Architecture.

New York's Metropolitan Museum reassembled a formal room
as it was furnished in 1762.  Chippendale mahogany furniture,
silk brocades, crystal, silver and Persian carpets revealed the
richness of artisan craftsmanship!

When the Industrial Revolution gave rise to mass-production
—and spawned the world's first middle class,
artisan furniture was copied in broad price ranges
as it continued to use nature's sustainable raw materials.
Textile technology added mass-production of quality textiles.
DEMOCRATIZATION OF FURNITURE
was realized through technology and cheap labor. 

INNOVATION CONTINUES:
Michel Thonet perfected engineering techniques to bend solid wood in the 1840's and by 1849, bentwood furniture was a mass-production success—as craftsmen were replaced by an assembly line. Prior to this, curved wood was achieved by cutting curved shapes from a large piece of wood —or piecing wood (which decreased its strength).
After Commodore Perry's expedition to Japan in the 1850's, furniture designs were influenced by the Far East.  Western furniture makers simulated bamboo by carving wood–using a lathe.
The 20th Century brought more innovation. Mies Van der Rohe designed a cantilevered chair made of polished steel with leather cushions for the 1929 World's Fair in Barcelona. Today, both flat and tubular steel furniture are mass-produced in a broad range of price and quality.
The ability to bend and mold plywood — led to furniture by the husband and wife team, Charles and Ray Eames, who molded plywood splints and stretchers for the U.S. Navy.
In 1944, Eames prototype for a molded plywood chair was the
first mass-produced chair with three-dimensional curves.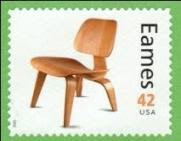 In 2008, the US government issued 16 postage stamps in recognition of
Eames' furniture,
"achieved by creative use of new materials and technology".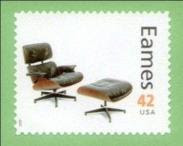 Eames' leather-upholstered molded plywood chair and ottoman
has become an international icon.
The Twentieth Century also introduced furniture made of fiberglass, plastics and natural wood waste products (as sawdust and wood chips) in substrates for veneer.
Substrates are invisible so their quality is hidden.  Manufacturers
commonly laminate plastic over inferior substrates.  The variable
content of substrates as wood waste products, their density, use of
toxicbinders, etc.  ARE NOT ON LABELS.
Raw material content of all furniture could easily be printed on labels
but are NOT required by law.
My experience with particleboard products compels me to forewarn:
JUST BECAUSE FURNITURE LOOKS GOOD; DOESN'T MEAN IT IS GOOD!
Currently, 'assemble-it-yourself' furniture is being promoted;
but even if you assemble it yourself :
how do you know if it's good?
The Twenty-first Century?
Furniture innovation will undoubtedly be generated by digital technology and
new applications of raw materials. 

We'll react immediately to new styles
 but judging their quality will require  'digging'.
WE KNOW WHAT WE LIKE:
HOW DO WE KNOW IF IT'S GOOD?

Pat Breen : EYEWITNESS TO QUALITY
My next post: WOOD: A PRIME MATERIAL OF FURNITURE